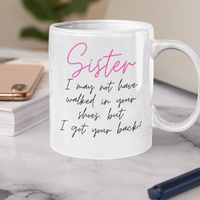 Elevate your sisterly love to the next level with our one-of-a-kind "Sister, I May Not Have Walked in Your Shoes, But I Have Your Back" 11 oz ceramic white mug! Pefect gift for Breast Cancer Awareness month. Expertly designed with a minimalist handwriting font, this mug is more than just a drinking vessel—it's a heartfelt note captured in ceramic.
Crafted for durability and everyday use, this mug offers a touch of luxury and a lot of warmth, just like your sisterly bond. Whether you're miles apart or sharing morning coffee, this mug serves as a daily reminder that sisterhood is an unbreakable connection. It's the perfect gift for birthdays, holidays, or just because you want to celebrate your irreplaceable relationship.
Order now to remind your sister that while you may not understand her entire journey, you're with her every step of the way. This isn't just a mug; it's a message of love and support that she'll cherish forever. Shop today and make every sip a little more special!