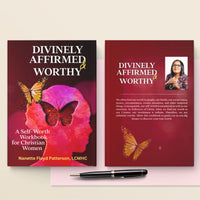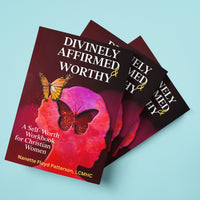 Divinely Affirmed & Worthy: A Self-worth Workbook for Christian Women(Pre-order & Digital)
Unlock the path to understanding and enhancing your self-worth with the "Divinely Affirmed & Worthy: Self-Worth Workbook for Christians." This comprehensive guide is designed to help believers navigate their spiritual journey towards a healthier sense of self, grounded in biblical truths.
INTRODUCTION & PERSONAL ASSESSMENT: Begin with a deep dive into your current state of self-worth, followed by insightful analysis and reflection.
SECTION 1: UNDERSTANDING SELF-WORTH: Learn the difference between self-worth and self-esteem, and discover ways to boost your sense of value.
SECTION 2: DISMANTLING MISBELIEFS: Challenge misconceptions about self-worth and engage in reflection activities to affirm your true worth.
SECTION 3-4: SELF-EVALUATION & BIBLICAL TRUTHS: Explore questions to ponder and 10 biblical truths that reinforce your understanding of self-worth.
SECTION 5-6: RECOGNIZING & IMPROVING SELF-WORTH: Identify signs of healthy self-worth and take practical steps to enhance it.
SECTION 7: THE H'S OF THOUGHT EXAMINATION: Examine thoughts that hinder, hurt, harm, help, and heal, followed by self-worth assessment and strategies to increase positivity.
SECTION 5: ADDITIONAL WORKSHEETS: Dive deeper with worksheets on understanding self-worth through God's love, escaping the comparison trap, identifying your gifts and strengths, and more.
This workbook is more than just a guide; it's a transformative tool that combines reflective activities, affirmations, and practical steps, all rooted in Christian faith. Whether you're struggling with self-esteem or seeking to deepen your understanding of self-worth from a spiritual perspective, "Divinely Affirmed & Worthy" is the perfect companion for your journey.
Order your digital download workbook today and embark on a fulfilling path towards recognizing and embracing your divine worth.