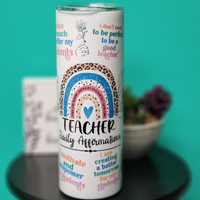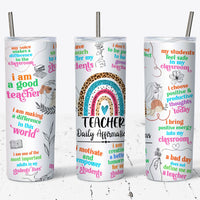 Teacher Affirmation Tumbler
Introducing the 20 oz Teacher Daily Affirmation tumbler - the perfect way for teachers to start their day off on the right foot and stay motivated throughout the day!
This tumbler is more than just a container for your favorite beverages - it's a daily source of inspiration and encouragement. With its vibrant colors and inspiring affirmations, this tumbler will help you stay focused, motivated, and energized no matter what challenges come your way.
Made from high-quality materials, this tumbler is designed to keep your hot drinks hot and your cold drinks cold for hours on end. It's perfect for use in the classroom, at home, or on-the-go. The tumbler features a secure lid with a sliding closure to prevent spills and keep your drink safe, while the colorful design is sure to brighten up any space.
Well insulated and has no condensation. Comes with a plastic straw.
But what really sets this tumbler apart are the inspiring affirmations that adorn it. With phrases like "My Students Feel Safe in My Classroom," "I Am Making a Difference in the World," and "I Am a Good Teacher," this tumbler serves as a daily reminder of the important role that teachers play in shaping the future.
At a time when teaching can be challenging and stressful, this tumbler is the perfect way to stay focused, motivated, and inspired. So whether you're grading papers, leading a lesson, or taking a break, let the Teacher Daily Affirmation tumbler be your daily source of inspiration and encouragement. Get yours today and start each day with a positive mindset!
Perfect gift for a teacher.
**Care Instructions**

~Dishwasher safe but suggest to handwash

~ Tumblers ARE NOT to be put in the microwave