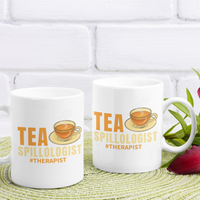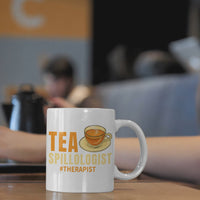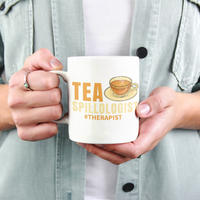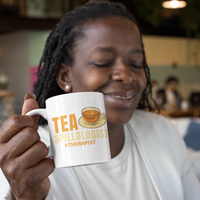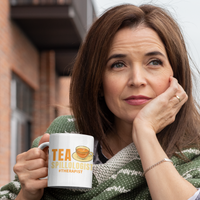 Brighten your daily tea or coffee rituals with our charming "Tea Spillologist" Ceramic Mug. A playful nod to therapists and social workers who often lend an ear and provide comfort to others over a cup of tea, this high-quality mug is designed to bring joy with every sip!
Handcrafted from durable white ceramic, this mug boasts a generous 11 oz capacity, perfect for enjoying your favourite hot beverages. The glossy white finish brings an elegant touch to any setting, making it a stylish addition to your kitchenware or office desk.
The design features a bold and fun "Tea Spillologist" phrase in tasteful typography, a heartwarming tribute to the caring professions. This mug serves as a perfect conversation starter, a reminder of the beautiful work that therapists and social workers do every day.
Dishwasher and microwave safe, our "Tea Spillologist" mug is designed for convenience and longevity. It's a perfect gift for therapists, social workers, psychologists, or anyone who appreciates the therapeutic power of a good tea spill!
Buy it for yourself or gift it to a friend, colleague, or loved one who needs a sweet reminder of the valuable work they do.
Designed with love, humor, and appreciation, this mug is more than just a cup - it's a beacon of warmth and understanding.
Key features:
- Durable ceramic mug with a 11 oz capacity
- Glossy white finish for an elegant touch
- Bold "Tea Spillologist" design
- Dishwasher and microwave safe
- Perfect as a gift or for personal use