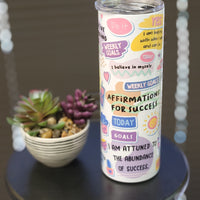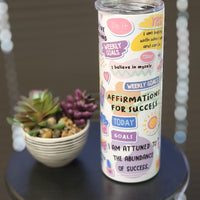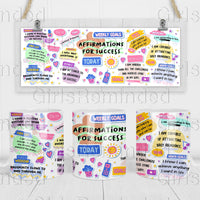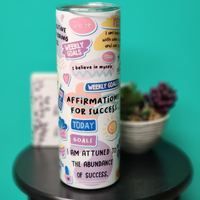 Success (Affirmation Collection)
Introducing the 20 oz tumbler with Daily Success Affirmations - the perfect way to stay motivated and focused on your goals throughout the day!
This tumbler is more than just a container for your favorite beverages - it's a daily source of inspiration and encouragement. With its sleek design and inspiring affirmations, this tumbler will help you stay focused, motivated, and energized as you tackle your daily tasks and work towards achieving your goals.
Made from high-quality materials, this tumbler is designed to keep your hot drinks hot and your cold drinks cold for hours on end. It's perfect for use at home, in the office, or on-the-go. The tumbler features a secure lid with a sliding closure to prevent spills and keep your drink safe, while the stylish design is sure to turn heads and spark conversations about success and motivation.
But what really sets this tumbler apart are the inspiring affirmations that adorn it. With phrases like "I am capable," "I am confident," and "I am unstoppable," this tumbler serves as a daily reminder of your own strength and potential. Whether you're working towards a big project or just trying to get through a busy day, these affirmations will help you stay focused, motivated, and positive.
At a time when motivation and inspiration can be hard to come by, this tumbler is the perfect way to stay on track and achieve your goals. So whether you're sipping on your morning coffee or enjoying a refreshing iced tea in the afternoon, let the Daily Success Affirmations tumbler be your daily source of inspiration and encouragement. Get yours today and start each day with a positive mindset!
-----------------------------------------------------
Our drinkware is printed in-house. No third party.
Available in both 21 oz mug and 20 oz tumbler.
**Care Instructions**
~Dishwasher & Microwave Safe
~ Tumblers ARE NOT to be put in the microwave