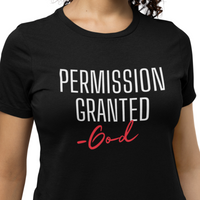 Permission Granted Tshirt
You don't need permission to do anything that God has already given you permission to do. Wear this shirt as a reminder that you have permission granted by God to be uniquely yourself, every day.
The design on this t-shirt features the phrase "Permission Granted by God" in bold, eye-catching letters. It's a powerful statement that will inspire you to be confident, strong, and true to yourself.
Made from high-quality fabric, this t-shirt is comfortable, durable, and perfect for everyday wear. Whether you're going out with friends, running errands, or just lounging at home, this shirt will help you feel empowered and inspired.
So put on this t-shirt and remember that you have permission granted by God to be exactly who you are meant to be. Let this message be a daily reminder that you are unique, special, and loved by the divine.
Machine wash cool

Fabric - 100% Cotton

Feature - Short Sleeved and Crew T-shirt

Style - Lightweight fleece shirt featuring short sleeved and crew. The simple silhouette is casual chic and never out of date. Easily pair it with any casual pants for a casual everyday look. The soft feel and comfort makes this highly suitable for active lifestyle.

Fits - Unisex - Gildan unless otherwise stated

Please see the size chart for an accurate measurement.)

Easy Care - Machine Wash
 **For special T-shirt color requests, you can email us at info@girlsreminded.com or chat with us directly on the page.
 
Don't forget the mug here.