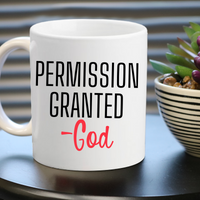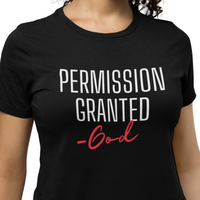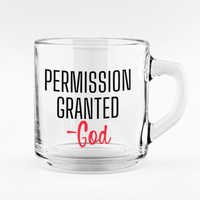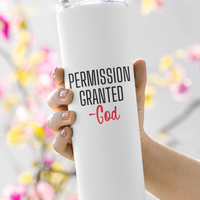 Permission Granted Drinkware
You don't need permission to do what God has already given you permission to do. 
Hey Sis! Remind yourself each morning that you have permission by God to be who you were created to be with these beautiful mugs.
The ceramic mug features a stunning design with the words "Permission Granted by God" in bold, vibrant letters. The glass mug has a simple, yet elegant design with the same message etched onto the surface.
Each sip of your favorite beverage will serve as a reminder that you have the right to be confident, bold, and unique, just the way God intended you to be. Start your day with a positive affirmation and feel inspired every time you take a drink.
These mugs are perfect for coffee, tea, hot chocolate, or any beverage of your choice. They're also microwave safe, making it easy to heat up your drink whenever you need a warm pick-me-up.
So go ahead, grab a mug and be reminded that you have permission granted by God to be exactly who you are meant to be.
Available in both an 11 oz ceramic mug, glass, and a 20 oz tumbler. If you would like your name added, add a $5 tip at check out.  Be sure to write the name correctly in the Special Instructions box at checkout.  TIA
**Care Instructions**
~Mugs are dishwasher & microwave safe
~Tumblers - handwash
~ Do not put tumbler in microwave 
 Consider other products...
Want the T-shirt too? Here you go.