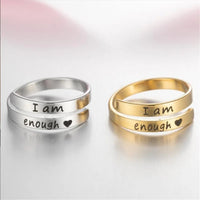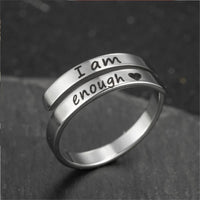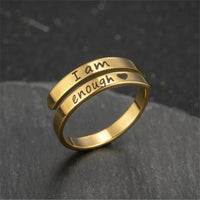 I Am Enough Reminder Ring
Our stunning "I Am Enough" classic engraved ring, now available in a beautiful spiral wrap design that is adjustable to fit most finger sizes. Crafted with high-quality silver or gold-tone metal, this ring exudes elegance and sophistication while delivering a powerful message of self-love and confidence.
The engraved words "I Am Enough" serve as a daily reminder to always believe in yourself and your abilities, no matter what life may bring. The classic design of the ring makes it perfect for any occasion, from casual outings to formal events, and the spiral wrap adds a unique touch of style that sets it apart from ordinary rings.
The adjustable design ensures a comfortable fit for any finger size, making it a versatile addition to any jewelry collection. Whether you're treating yourself or looking for a meaningful gift for a loved one, our "I Am Enough" spiral wrap ring is sure to make a statement and inspire confidence with every wear. Great graduation gift for a girl.
Order yours today and start living every day with the powerful message of self-love and confidence that our "I Am Enough" engraved ring represents.