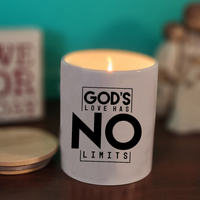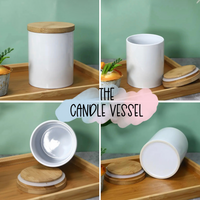 God's Love Has No Limits Reminder Candle - Ceramic
This candle serves as a reminder of the unending and unconditional love that God has for us.
The ceramic jar of the candle is adorned with the message "God's Love Has No Limit" in elegant and simple lettering. It is designed to be a beautiful addition to your home, office, or anywhere you'd like to be reminded of God's love. The candle itself is made with high-quality soy wax blend, ensuring a long-lasting burn time, and can be scented with any of our 10 amazing fragrances to further enhance your experience.
The message on the jar is inspired by the Bible verse found in Ephesians 3:18-19, which states, "And I pray that you, being rooted and established in love, may have power, together with all the Lord's holy people, to grasp how wide and long and high and deep is the love of Christ, and to know this love that surpasses knowledge—that you may be filled to the measure of all the fullness of God."
We hope that this candle serves as a reminder to you of the depth and vastness of God's love for you. It makes for a great gift for a loved one, or as a personal reminder for yourself to stay centered on God's love.
Thanks in advance for considering our "God's Love Has No Limit" reminder candle. We hope that it brings peace and comfort to your life as you remember God's unending love for you..
When lit, let this candle remind you God's love has no limits
#Wisdom - Once you're done with the candle, don't throw it away repurpose the candle vessel. Find out ways to repurpose on the Fragrance and Candle Vessel information page. 
Our Fragrances...
Our fragrance oils are purchased from a local company that prides itself in having clean scents. They use natural essential oils and synthetic aroma chemicals. All of our fragrances are phthalate-free and adhere to RIFM and IFRA standards for safety and purity. The fragrance oils are free from carcinogens, toxins, and other hazardous chemicals commonly found in fragrance oils. In addition,  fragrance oils used are considered vegan-friendly, and cruelty-free.
Learn more about our fragrances and candle vessels here. 
Our Candle Wax...
Unless otherwise specified, all candles are hand poured with soy blend wax. Soy blend candle wax is a type of candle wax made from a mixture of soy wax and other natural or synthetic waxes. This blend of waxes results in a candle that has the benefits of both soy wax and the added waxes. Soy wax is known for being eco-friendly, renewable, and biodegradable, and for providing a clean burn with minimal soot. The added waxes can enhance the performance of the candle, such as increasing its fragrance throw, enhancing its hardness and stability, or improving its color retention. Soy blend candle wax is often preferred by candle makers and consumers who want a candle that provides a balance of eco-friendliness and performance.
Candle Vessel
This simple yet elegant candle vessel has a bamboo lid. The candle vessel (jar) is a classic, versatile, and elegant container for a candle. This candle jar is made of smooth, high-quality ceramic material with a bright white finish, giving it a timeless look that will complement any decor style. Its 11 oz size provides ample space for a generous amount of wax, making it perfect for use in larger rooms or for extended burn time. The ceramic material provides a sturdy and safe housing for the candle, while the wide opening makes it easy to access the wick and trim it to ensure an even burn. The classic design of this white ceramic 11 oz candle jar makes it a popular choice for use in homes, spas, and businesses, providing a warm and inviting ambiance to any space.