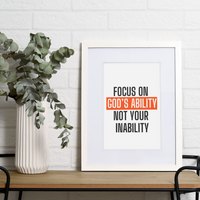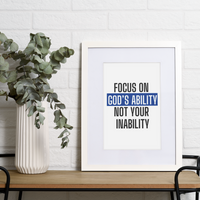 Focus on God's Ability Not Your Inability - Trendy Wall Art, Trendy Digital Print, Trendy Wall Art, Wall Decor, Christian Poste
Focus on GOD'S Ability Not your Inability - Trendy Wall print | Digital Prints Download Trendy | Trendy Wall Art | Wall Decor | Christian Poster | Inspiration Quote
A Perfect Wall Decorations Paintings for Living Room, Bedroom, Kitchen, Office, Hotel, Dining Room, Office, Bathroom, Bar Etc.. Great Gift For Art Lovers, Decorators, Designers, Family & Friends.
This stylish wall art is a home & office decoration item that can also be used in hostels and study rooms, classrooms and corridors, as well as shops and cafes. In short, if you can find a wall to hang these posters, they will enhance your space.
SIZES
8.5 x 11
About the print:
- All prints are sold UNFRAMED. The picture is for staging only.
- Printed locally and sustainably
- Printed on a museum-quality poster made on thick and durable matte (uncoated) paper.
- Paper weight: 200 g/m² (80 lb).
- Shipped in sturdy packaging to protect the poster
- The colors may vary slightly due to different color monitors and printers settings
Thank you for Shopping