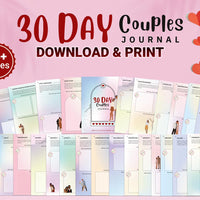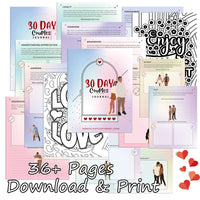 Couples Journal, Instant download
A 30-Day Couples Journal. Enjoy every moment Love is love. The perfect way to talk about your relationship, what is important to you, and how you enjoy being loved. Work through the sheets together on a date night along with snacks and music! This is a Journal for our love, Relationship. To grow that connection stronger and let your guard down. Loads of fun, with date night ideas. The Couples Planner is a lot more than a basic journal. It has everything you need to talk about in your relationship, and so much more.

Do you have relationship goals? Start with this journal? The best relationship is when there is not secrets. Begin with this journal.

Finish up the 30 days with intimate time sharing your favorite beverage and a coloring page activity. Stare in each others eyes. Make kissy faces while coloring. This create quality time.

Print out a page a day.

*A printed version is coming soon. Mailed directly to you.

DETAILS:
Objectives
Gratitude
Love languages
Understanding/ Appreciation
Dating
Affection
Teamwork
Encouragement
Strengths
Weaknesses
Honesty
Forgiveness
Perspective
Intimacy
Trust
Friendship
Humor
Respect
Loyalty
Learning
Communication
Reliability
Priorities
Growth
Love
Dreams
Values
Finances
Parenting
Conclusion
Let's celebrate
Enjoy every moment
Love is love


HOW TO DOWNLOAD & PRINT:

1. Log into your Etsy account.
2. Click the "You" tab.
3. Scroll and click "Purchases and reviews".
4. Find your purchase and click "Download Files".
5. Click "Download".
6. Select the Actual Size or Scale to 100%.
7. Choose Auto portrait/landscape under the Page Orientation section.
8. Preview before printing

NOTE:
- Downloads will be available once your payment is confirmed.
- You can't DOWNLOAD a digital purchase through the SHOPIFY APP. To download the digital file, sign in to Shopify on your mobile browser or a non-mobile computer.
- This product can be printed at home or professionally.
- The colors may slightly vary depending on the printer and screen.