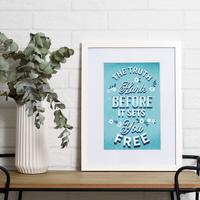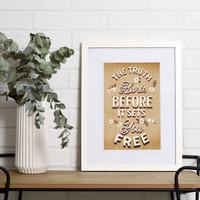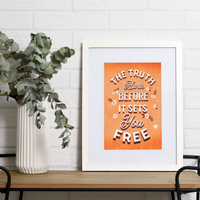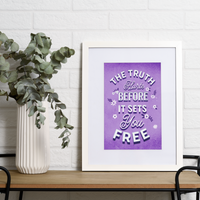 Poster- The Truth Hurts Before It Sets You Free
The truth will set you free, however in certain situations, it'll hurt first.
Introducing our stunning 8.5 x 11 poster that features a powerful and thought-provoking message: "The truth hurts before it sets you free."
The message is a reminder that sometimes the truth can be painful to face, but ultimately it is the key to personal growth and freedom. This poster is perfect for anyone who wants to be inspired to face the truth and overcome their fears, doubts, and insecurities.
Printed on high-quality paper using state-of-the-art printing technology, this poster is designed to last. It is easy to frame and will look great in any room, making it an excellent gift for friends, family, or coworkers who need a little extra motivation to face their truths.
So if you're looking for a powerful and inspiring piece of wall art, look no further than our "The truth hurts before it sets you free" poster. Hang it on your wall and let the message inspire you to be the best version of yourself.

A Perfect Wall Decorations Paintings for Living Room, Bedroom, Kitchen, Office, Hotel, Dining Room, Office, Bathroom, Bar Etc.. Great Gift For Art Lovers, Decorators, Designers, Family & Friends.

This modern wall art is a home & office decoration item that can also be used in hotles and study rooms, classrooms and corridors, shops and cafes. In short, if you can find a wall to hang these posters, they will enhance your space.

SIZES
8.5 x 11


About the print:

- All prints are sold UNFRAMED. The picture shown is for staging purposes only.
- Printed locally and sustainably
- Printed on a museum-quality poster made on thick and durable matte (uncoated) paper.
- Paper weight: 200 g/m² (80 lb).
- Shipped in sturdy packaging to protect the poster
- The colors may vary slightly due to different color monitors and printers settings

Thank you for Shopping.