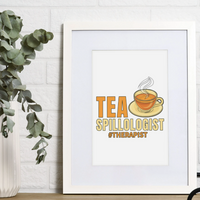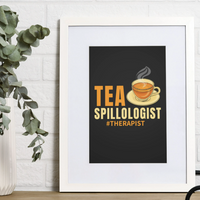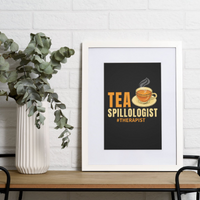 Tea Spillologist Therapist Wall Art, therapist office art, Therapist Wall Art, Wall Decor, Wall Poster, Spill the Tea
Spillologist is a therapist who is non-judgmental and skilled at listening to individuals as they sort out their life.

A therapist is an individual who helps individuals with life challenges. Therapists listen to individuals as they share issues of life. Therapists are confidants and are safe places for individuals.

The therapist listens to the "tea" without judgment.

What is "tea"? The word "tea" is personal information belonging to someone. It's the scoop. It's shared the news.

A Perfect Wall Decorations Paintings for Living Room, Bedroom, Kitchen, Office, Hotel, Dining Room, Office, Bathroom, Bar Etc.. Great Gift For Art Lovers, Decorators, Designers, Family & Friends.

This modern wall art is a home & office decoration item that can also be used in hostels and study rooms, classrooms and corridors, shops and cafes. In short, if you can find a wall to hang these posters, they will enhance your space.

SIZES
8.5 x 11

*Spillologistist™ is a brand name with a pending trademark. So please don't steal it.

About the print:

- All prints are sold UNFRAMED. The picture shown is for staging purposes only.
- Printed locally and sustainably
- Printed on a museum-quality poster made on thick and durable matte (uncoated) paper.
- Paper weight: 200 g/m² (80 lb).
- Shipped in sturdy packaging to protect the poster
- The colors may vary slightly due to different color monitors and printers settings

Thank you for Shopping.