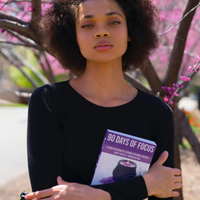 90 Days of Focus: A Christian Woman's Journal for Mind Renewal, God's Truth, and Taking action
Get a signed copy of this journal by Nanette Floyd Patterson. 
This journal is for Christian women entrepreneurs/visionaries who are about the Father's business (whatever He has given you to do). It has several areas of focus:
Vision

Goal setting

Scripture meditation

Gratitude

Identifying negative thought patterns and confronting them with God's truth

Celebrating wins

Identifying vision blockers

Hearing the voice of God
Each day pray and ask God for divine focus. Choose a time each day to complete the journal. This will help with consistency. Completing this journal daily will give you an opportunity to examine yourself as 2 Corinthians 13:5 mentions.
This journal will give you opportunities to reflect on what God is saying (WIGS), confront lies with God's truth, get laser-focused on the tasks at hand for the day, make yourself a priority too, measure your mood, plan visionary time, and celebrate you. This is a robust journal and if used effectively with commitment, consistency, and discipline, you will begin to see God's vision for you manifested.