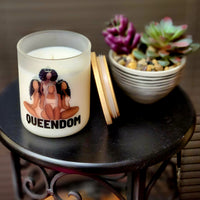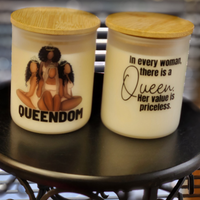 Queendom - Abundance of Grace (Limited Edition)
God says that His grace is sufficient. This warm and beautifully scented candle is soy blend wax hand poured in a frosted glass vessel with our Queendom design printed on the front. The back of the candle says, "In every woman, there is a Queen. Her value is priceless."
This Abundance of Grace candle scent brings warmth and depth to a room during the fall and holidays. The fragrance oil used infuses rich cream with black cardamom, cinnamom, and chestnut and makes it perfect for setting the atmosphere for fall and holidays. It will remind you of the subtle aroma of cookies, cakes, and spices used during those loved filled family and friend gatherings.
If the beautiful candle vessel graced with these beautiful queens don't convince to buy, consider purchasing a travel size, 2 oz travel size heart. 
When lit, let this candle remind you of God's promise of grace.