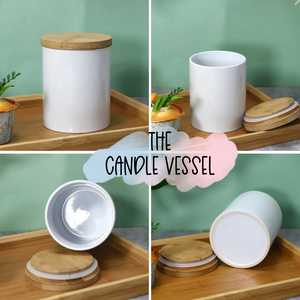 Oh Honey, I Am That Mom Reminder Candle - Ceramic Jar
Regular price
Sale price
$20.00
---
The "Oh Honey, I Am That Mom" reminder candle is a special type of candle designed to remind mothers of their strength and capability. The candle comes in a ceramic jar that is both beautiful and functional, making it a great addition to any home decor.
The candle is made with a soy blend wax that is environmentally friendly and provides a clean burn. This type of wax is also known for its long-lasting scent, which means that the "Oh Honey, I Am That Mom" reminder candle will provide hours of fragrance.
Choose any scent to help mothers feel more at ease and less stressed as they go about their day.
The reminder message on the candle is "Oh Honey, I Am That Mom," which serves as a reminder that mothers are strong, capable, and able to handle anything that comes their way. This is an important message for busy mothers who may sometimes feel overwhelmed by their responsibilities.
Overall, the "Oh Honey, I Am That Mom" reminder candle is a wonderful gift for any mother who needs a little reminder of her strength and resilience. It provides a beautiful scent, a lovely jar, and an uplifting message that can help mothers feel more confident and empowered in their daily lives.
When lit, let this candle remind you that mom are special.
BURN TIME: 50 Hours
SIZE: 11 Ounces 
CANDLE JAR REPURPOSE ABILITY: 100%
Our Fragrances...
Our fragrance oils are purchased from a local company that prides itself in having clean scents. They use natural essential oils and fragrance oils are free from carcinogens, toxins, and other hazardous chemicals commonly found in fragrance oils. In addition,  fragrance oils used are considered vegan-friendly, and cruelty-free.
Learn more about our fragrances and candle vessels here. 
Our Candle Wax...
Unless otherwise specified, all candles are hand poured with a soy blend wax. Soy blend candle wax is often preferred by candle makers and consumers who want a candle that provides a balance of eco-friendliness and performance.
THE BEAUTIFUL CANDLE JAR...
This simple yet elegant candle vessel has a bamboo lid. The candle vessel (jar) is a classic, versatile, and elegant container for a candle. This candle jar is made of smooth, high-quality ceramic material with a bright white finish, giving it a timeless look that will complement any decor style. Its 11 oz size provides ample space for a generous amount of wax, making it perfect for use in larger rooms or for extended burn time. The ceramic material provides a sturdy and safe housing for the candle, while the wide opening makes it easy to access the wick and trim it to ensure an even burn. The classic design of this white ceramic 11 oz candle jar makes it a popular choice for use in homes, spas, and businesses, providing a warm and inviting ambiance to any space.
#Wisdom - Once you're done with the candle, don't throw it away repurpose the candle vessel. Find out ways to repurpose on the Fragrance and Candle Vessel information page.